He was remembered with the movie Home Alone: Who is Macaulay Culkin?
Everyone remembers Kevin McCallister, the badass kid in the lead role. Macaulay Culkin, who will forever be remembered as Kevin but is now a big man at the age of 43, also grew up with us.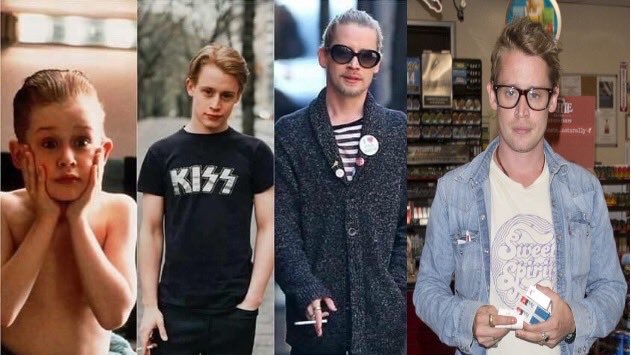 Macaulay Culkin was born on August 26, 1980, in New York, as the son of Kit Culkin and Patricia Brentrup. Joseph studied at Yorkville School. First, he lost his sister Dakota in a car accident. Then his half-sister, Jennifer Adamson, passed away at a young age due to a drug overdose.
Macaulay Culkin, who started acting at the age of 5, instantly became the little star known and loved by the whole world with the movie "Home Alone" in 1990. The sequel of the movie opened the door to fame in 1992; He starred in "Home Alone 2" and the movie was as successful as the first one. He also became the owner of an incredible fortune.
Macaulay Macaulay Culkin Culkin (born Macaulay Carson Culkin; August 26, 1980) is an American actor. One of the most successful child actors of the 1990s, he was placed 2nd on VH1's list of the "100 Greatest Kid Stars". Culkin rose to prominence as a child actor starring as Kevin McCallister in the first two films of the Home Alone film series (1990 and 1992), for which he was nominated for the Golden Globe Award for Best Actor – Motion Picture Musical or Comedy. He also starred in the films My Girl (1991), The Good Son (1993), The Nutcracker (1993), Getting Even with Dad (1994), The Pagemaster (1994), and Richie Rich (1994).
But the rule 'money does not always bring happiness' applied here and Culkin had to struggle with a lot of problems at a young age. Both fame and money made him and his relatives very dizzy. His parents, who had never been married, actually separated this time and fought each other to share the $17 million fortune. Control of the fortune was given to his father, Kit until it was made. In 1996, Macaulay announced that he would not act in any films until he came of age. Culkin, who immediately experienced growing pains, moved to a separate house at the age of 17.
In 1991, he also appeared in the music video for Michael Jackson's song "Black Or White".
Culkin, who played the naughty and smart Kevin character in the movie Home Alone, lost both his appearance and voice due to alcohol and drug consumption after the films he starred in in the 90s and never achieved the expected explosion. Known as a promising name during the Home Alone period, Culkin was included in the "100 most successful child actors" list by Video Hits One TV.
Macaulay Culkin married Rachel Miner in 1998, but the couple divorced in 2002. In 2002, he started dating actress Mila Kunis, but their relationship ended in 2010.
Culkin, who has not acted in films in recent years, works as a DJ in nightclubs. In 2004, Culkin was caught and detained with a significant amount of marijuana and sedatives while driving in his car. The young actor announced that he used drugs for depression and panic disorder. Stating that he has no plans to return to television or cinema acting, the actor said, "I go wherever the wind takes me," and explained that in his new philosophy of life, he spends his days drawing, writing, or doing whatever.
November 2023
Macaulay Culkin will receive a star on Hollywood's Walk of Fame
Culkin, 43, will have a star on the Walk of Fame, where many names from the entertainment industry are honored.
The child star, who starred in Home Alone and Home Alone 2, will become the 2765th person to have a star on the famous sidewalk.
Catherine O'Hara, who played his mother in Home Alone, will also attend the ceremony.
The actor last walked in Gucci's Love Parade fashion show in Hollywood.